Level 2 - ECN/STP
In recent years, the Forex trading industry increasingly began to use the concept of ECN (Electronic Communication Network). ECN networks are different from the major exchange trading systems through which participants trade with each other only electronically. ECNs have been used for a long time and are well known by traders investing in stocks, but for Forex traders this is a new concept because the global exchange market is unregulated. Their entry in currency trading, through the creation of specific software products, is a successful way to transfer best practices from the regulated markets to the Forex market. This move will achieve greater transparency, better trading conditions and avoid conflicts of interest.
ECN (L2 of Delta Trading) Trading Scheme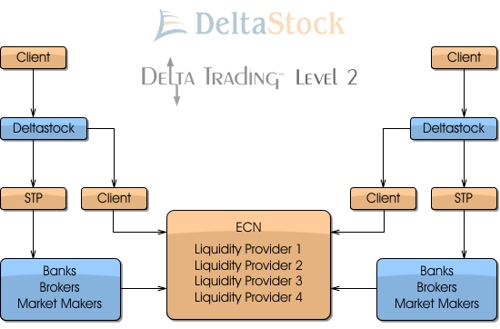 Advantages of ECN trading
One of the major benefits of trading with an ECN is that traders using these networks can negotiate trades directly with each other by placing limit orders, which can be viewed by all. Thereby avoiding the interference of a dealer and achieving better execution price, while generating liquidity in the ECN. Generally small retail traders are unable to deliver the needed volume of larger transactions, and therefore require the generation of additional liquidity from the so-called Liquidity Providers (providers of liquidity). These are usually large banks, brokers and market makers, who constantly quote large volumes of limit orders. This provides an opportunity for individual traders, who may wish to trade with a specific bank or liquidity provider, to do so.
What is STP (Straight Through Processing)?
Because of the absence of a centralized market - a currency exchange market, where orders are placed and where the settlement of trades is made through a clearing institution, the technology STP (Straight Through Processing) is used. Simply put, this technology instantly transfers orders to the liquidity providers quoted in the ECN (L2 Module in Delta Trading), with which Deltastock has an account with.
Trading module L2 (Level 2) in Delta Trading
With the trading module L2 (Level 2) in Delta Trading, Deltastock became the first institution in the world that offers its clients a real ECN. With it clients can see and choose with which liquidity providers to trade with and subsequently track with whom their order is executed. Using this module enables order execution either: client-to-client, without the interference of a dealer, or through STP (Straight Through Processing) directly to the interbank market with Deltastock's partners. It must be kept in mind that Deltastock remains a counterparty to clients' trades, regardless that it acts as intermediary, since the orders are routed to the liquidity provider or on behalf of a client.
Meanwhile in order to achieve full transparency in the execution of trades, the L2 Module allows you to see the names of specific Liquidity Providers (providers of liquidity) quoted in the ECN, to choose which one to trade with or to submit orders via SMART routing (routing the order to the first best possible price for the full depth of the market).
The L2 Module allows Deltastock and the liquidity providers to compete with each other from the flow of quotes, and Deltastock's clients to benefit from the narrow spreads as a result of this competition.
Also one of the biggest advantages of the L2 module is that it allows you to open a position with one broker, bank or market-maker and just as easily close it with another, without having to: open separate accounts, lose money on the spread, pay for bank transfers, meet by different margin requirements or pay swaps on hedge positions.
Minimum/maximum trading volumes in the Level 2 Module – ECN/STP
Liquidity Provider
Minimum order size in units of the base currency
Maximum order size in units of the base currency
Multiple of order size
Market order
Limit order
Deltastock (Delta)
1000
1000
3 000 000
1000
Forex Capital Markets (FXCM)
20 000
10 000
3 000 000
10 000
Interactive Brokers (IB)
USD
50 000
25 000
3 000 000
1000
AUD
70 000
35 000
CAD
60 000
30 000
CHF
60 000
30 000
EUR
40 000
20 000
GBP
34 000
17 000
NZD
80 000
40 000
Citibank
20 000
10 000
3 000 000
1000
Dukascopy Bank SA
20 000
10 000
3 000 000
1000
LMAX Exchange
20 000
10 000
3 000 000
1000
* The trading hours during which Deltastock executes orders of the liquidity provider Interactive Brokers (IB) are the following: for all currency pairs except those with NZD - every day from Monday to Friday, opening at 00:30 EET, closing at 00:00 EET. On Friday opening at 00:30 EET, closing at 23:00 EET. For currency pairs which include NZD - every day, from Monday to Friday including, opening on 00:30 EET, and closing at 20:00 EET.
For more information, please refer to the Level 2 Manual.