Live Help
How can we help you?
If you have questions or need help, you can contact the customer support team of Deltastock.
Contact us in Live Chat. Get in touch quickly and easily.
You can also use the application Deltastock Teamviewer QuickSupport. This is a secure and completely safe software, with which a Deltastock employee gains temporary access to your computer in order to help you solve a technical or an installation issue related to the trading platforms or your troubles with filling in and sending the documents required by us.
How does it work:
Step 1:
Click on the button below, download the file and launch it.
NB! Please, keep in mind that even if you already have Teamviewer installed on your computer, you must use the version provided by us, in order to have compatibility and to avoid additional technical problems.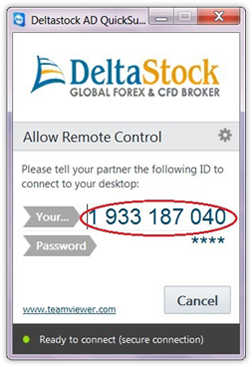 A window with the ID number of your session will appear (encircled in red). It is a unique number and gives only temporary access to your computer. After the session is over, the access of Deltastock to your computer is terminated.
Step 2:
Contact the Front Office department of Deltastock at the following phone numbers: +359 2 811 50 50 or +359 700 18 180 or in the Live Chat and provide the Teamviewer ID number to start the temporary remote access session.