FAQ – DeltaStock MetaTrader 5
Q. 1:

Can I start trading without prior experience or knowledge?
While it is not necessary to have a background in trading, we recommend that you familiarise yourself with margin trading and derivatives contracts. You can also read through our Learn section and open a free demo account.
The DeltaStock MetaTrader 5 demo account is similar to a real trading account, but it allows you to trade without the risk of losing real money since the demo account uses virtual funds. This can be an excellent way to both gain experience as a trader and explore the platform. Once you feel confident enough to trade on the real markets, your next step could be to open a live account.
Q. 2:

How do I get started using Deltastock MetaTrader 5?
To start using the platform, simply download the installer from here
You can also trade directly through the browser with Deltastock MT5 Web – learn more about this version here.
Q. 3:

Which operating systems does the platform support?
Deltastock MetaTrader 5 can run on all modern operating systems: macOS, Windows and Linux.
Q. 4:

What order types does Deltastock MetaTrader 5 support?
The trading platform offers seven order types, of which six are pending. Here is the full list:
- Market
- Stop-loss
- Limit buy
- Limit sell
- Stop limit buy
- Stop limit sell
- Take profit
Q. 5:

Can I use trading robots?
Yes, you can run any Expert Advisors (EAs) either coded by yourself or available from third-party providers.
Q. 6:

Can I use custom indicators?
Yes, you can use any custom indicators that are MQL-compatible. Please note, however, that there may be times when a third-party indicator is not compatible with our trading platform due to coding issues or for some other reason. Because of the above, while we do not restrict the use of any custom indicators, please note that we do not provide support for or endorse any of your indicators or that of third parties.
Q. 7:

Is there a limit to the number of EAs and indicators that I can run at the same time?
There are no restrictions. Please keep in mind, however, that MetaTrader 5 is a fairly RAM-intensive program, so overloading your platform with a large number of EAs and indicators could reduce the overall performance and speed of your trading platform.
Q. 8:

Do I need to keep the platform constantly open to monitor quotes and react to market movements?
Not necessarily. You can circumvent this by taking advantage of pending orders, which will be executed when the price of the traded instrument reaches your predefined level. You can find more information about some of these pending orders in our Learn section.
Q. 9:

What will happen to my open positions if I log out?
Your open positions won't be closed until an existing stop-loss, take-profit, or another conditional order is fulfilled or if a margin stop-out level is reached. Existing pending stop or limit orders will still be filled if the entry rate is met. However, please note that, if you are using Expert Advisors, you would need to remain logged in and keep the platform open at all times.
Q. 10:

What time does the platform show and can I change it to my local time?
The platform is set on server time, which in our case is Eastern European Time (EET). Unfortunately, this means that you won't be able to change it to your local time.
Q. 11:

Can I have multiple accounts on Deltastock MetaTrader 5?
You can have as many accounts as you need. However, you can only stay logged into one account at any given time. This means that, should you wish to stay logged into more than one account at the same time, you would need to run several instances of the platform on your device or browser of choice.
Q. 1:

How can I open a demo account?
Opening a DeltaStock MetaTrader 5 demo account is as simple as downloading your preferred version of the platform and creating an account from there. If you use the desktop version of the platform, your demo account will be created automatically for you once the platform has finished installing.
Q. 2:

Can I open more than one demo account?
Absolutely! Here is an example of how you can do this through the desktop version of the platform (the process is identical in the other versions as well):
Step 1: Click on the "File" menu and choose "Open an Account", as shown below.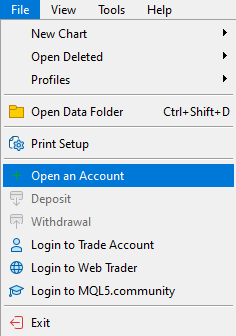 Step 2: Choose Deltastock AD as your CFD broker and click "Next".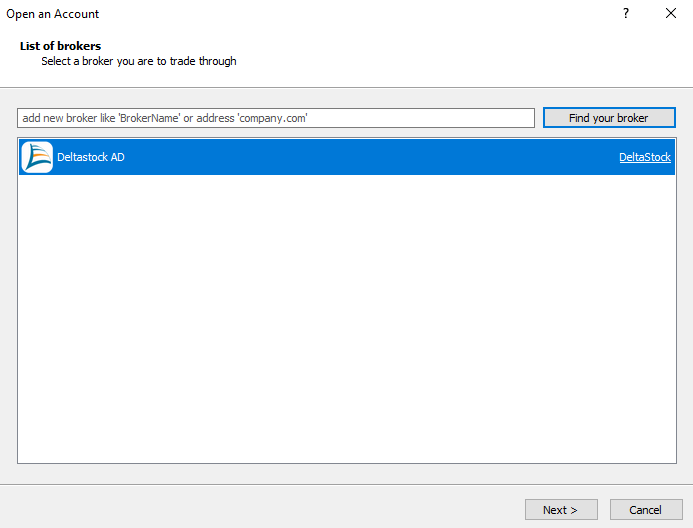 Step 3: Choose the first option ("Open a demo account") and press "Next".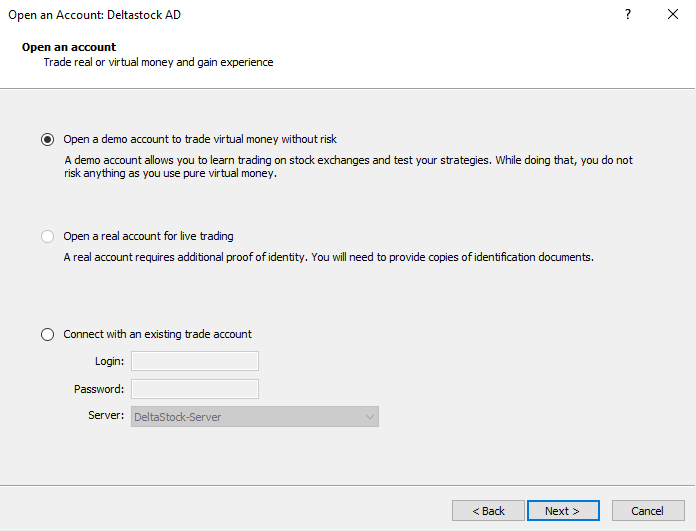 Step 4: Fill out all required fields: first and second names, email and your mobile phone. You can also enable or disable the "hedge in trading" option and choose the size of your starting deposit. Please also take the time to review our "Privacy and Personal Data Protection Policy". If you agree with the terms and conditions, please check the box "I agree with the terms and conditions" and click "Next".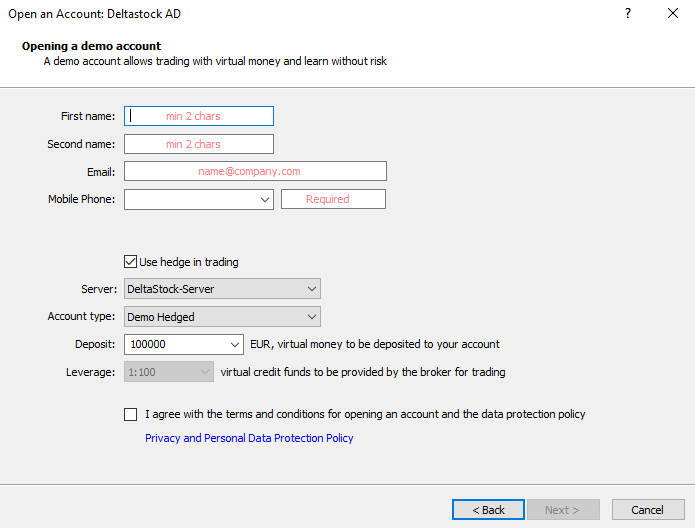 Step 5: A new window with your generated username and password should appear next. Make sure to write those down and click "Finish" to instantly log into your new account. You can then freely sign in and out of your demo accounts through File → Log into Trade Account.
Q. 3:

How long will my demo account last?
Your demo account will be active for 6 months. If, after this period, you decide you are ready to trade with real funds, you can open a live account. If you want to practice some more, you can open a new demo account, which will be active for another 6 months.
Q. 4:

Do I have to supply genuine contact details upon registering a demo account? I don't want to receive any spam.
We will use the contact details you provided to inform you of important changes that could affect your account. That being said, you are free to unsubscribe from any marketing-related materials at any time. The choice of what data you will provide us ultimately rests on you, but it is highly recommended that you provide genuine contact details. We would never disclose your personal contact details to any third parties!
Q. 5:

How can I open a live account?
Q. 6:

I didn't find an answer to my question on this page. Can I contact you directly?
You can get in touch through the numbers and emails listed in the Contacts section on Deltastock's website.