Fixed Income Securities
Trading
---
Wide access to international bond markets. Primary and secondary market of government and corporate debt instruments.
About DeltaStock
---
Already 25 years since DeltaStock first started providing online access to the global financial markets. Today, the company is expanding its portfolio one step further to include fixed income bond markets. Institutional and corporate clients of DeltaStock can now take advantage of the opportunity to engage in free trading of government and corporate bonds on both the primary and the secondary domestic and foreign markets.
The trades will be executed on the international trading systems Bloomberg Trading Facility Limited and E-Bond Bulgaria, operated by Bloomberg Trading Facility Limited, as well as on the OTC (over-the-counter) market. Please note that, in order to gain access to and trade on the markets, clients will have to personally contact DeltaStock's "Fixed Income Securities" department. Deltastock deposits the clients' fixed income securities in the following depository institutions: First Investment Bank and Eurobank EFG (Postbank).
The wide range of fixed income securities gives DeltaStock clients the opportunity to trade in a manner that best suits their financial status, investment horizon, and risk appetite.
DeltaStock offers access to the following range of security markets:
---
Bulgarian
government bonds


Bulgarian and foreign
corporate bonds
Why trade with DeltaStock?
---
Team of professionals with experience in fixed income securities trading

Wide access to the primary and secondary domestic and foreign market of government and corporate bond markets

Liquidity provider through competitive Bid - Ask prices

Fast and efficient execution

Quick onboarding process

No commissions or additional fees
Martin Tarpanov is a professional Fixed Income Trader with 15 years of experience on the global financial markets. He has worked for several established financial institutions, such as Societe Generale Expressbank and Raiffeisenbank, and possesses deep knowledge of a wide range of industry fields: corporate finance, asset management, portfolio and risk management, investment banking and others. Martin also holds several professional licenses and certifications, including an Investment consultant license and a brokerage license both issued by the Bulgarian Financial Supervision Commission.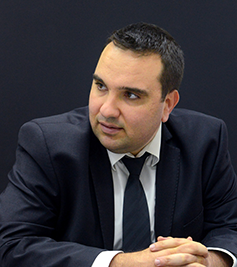 For further information, please get in touch with DeltaStock:
---
Martin Tarpanov – head of "Fixed Income Securities" dpt.

m.tarpanov@deltastock.com

+359 2 811 50 66
Kaloyan Maslarsky – Chief Dealer "Securities"

k.maslarsky@deltastock.com

+359 2 811 50 67